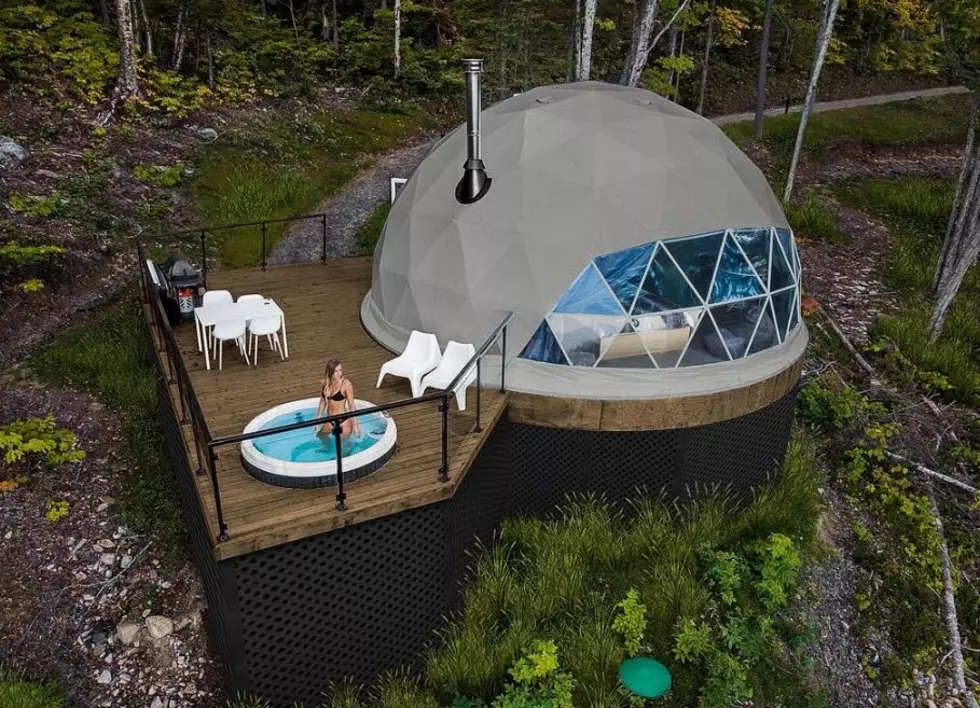 Luxury Resort to Build Dome and Treehouse Cabins Along Lake Superior
The Harbor, LLC
I came across a picture of this new resort up along Lake Superior and I was so intrigued! It looks like such a cool place to stay. It's up north in Two Harbors, Minnesota and the plan is to build dome cabins and treehouses on the 23-acre resort.
There are some great places to stay along Lake Superior (at the bottom of this post you can take a look at some of them) with amazing views but I feel like this new resort will have next-level views, especially the domes. And that's kind of what the developer of this new resort was going for.
John Leupke is the developer and he's part of a company called The Harbor, LLC. He spoke with the Minneapolis/St. Paul Business Journal and said, "'The North Shore has always been a special place (for me)'" but he's traveled there since he was a child and has "noticed that most resorts remained unchanged and the area had few new resort options." Which is why he was driven to open his own, unique, luxury resort.
Part of John's goal with this resort is privacy. So all of the dome cabins will have their own hot tubs, for example. Taking a dip in a hot tub while overlooking Lake Superior sounds awesome! Also, the dome and treehouse cabins will have different sizes depending on how many people are staying. They will range from 500 sqft to 1,500 sqft.
There are three phases in the building project and the plan is to have the final phase begin in 2023. I would absolutely stay here, it looks like a very unique place to stay and definitely not like anything else in the area that I've seen.
---
10 Stunning Places to Stay on Lake Superior in Minnesota
These are listed based on where they land on a map. Number 1 is the closest to Duluth all the way up to 10 which is in Grand Marais. At the bottom is a map showing each location.
---
1. Beacon Pointe
Our first spot is Beacon Pointe in Duluth. It's just up 35 from Canal Park so if you're interested in exploring Downtown Duluth this may be the perfect spot to stay. A two-bedroom condo starts at $436.14 per night. That's the most expensive option but provides the most space for a family trip.
---
2. Dodges Log Lodges
Also in Duluth but a little further north than Beacon Pointe is Dodges Log Lodges. They have all different kinds of cabins you can stay in. They're just separated by trees but it still provides you with some privacy. The Superior cabin, which has two bedrooms, starts at $326 for Sunday through Thursday and goes up to $366 for Friday and Saturday. Those are the summer rates and there are smaller and cheaper cabins available. There's also a 3-night minimum here.
---
3. Larsmont Cottages
Larsmont Cottages is in Two Harbors and is definitely a more expensive option. The Lakeside 2-Bedroom Cottage starts at $461 per night and can go up to $799 so definitely not the cheapest option out of these 10. If we look a the Lakeside Suite instead, which sleeps 1-2 people, that's starting at $305 per night.
---
4. Breezy Point Cabins
I'd say Breezy Point in Two Harbors is a pretty well-known place to stay on Lake Superior. And it makes sense, they're cabins look awesome! A two-bedroom cabin starts at $234 per night. Or if you're ok with a 1 bedroom that still sleeps up to 4 people, that one starts at $208 per night.
---
5. Superior Shores Resort
Superior Shores Resort in the northern part of Two Harbors has rooms you can stay in, similar to your typical hotel room, they call them Guest Rooms. But if you're looking for less of a hotel feel and really want to get away, their 2-bedroom condos start at $487.33 per night. The cheapest option I found that's a Guest Room that still sleeps 4 people starts at $154 per night.
---
6. Grand Superior Lodge
Even further north but still technically in Two Harbors is Grand Superior Lodge. They also have lots of 'guest room' options but also cabin options. Their two-bedroom log cabin starts at $369 per night. Their cheapest 'guest room' that sleeps up to 4 starts at $219 per night.
---
7. Cove Point Lodge
Up in Beaver Bay you can stay at Cove Point Lodge. It looks like they have beautiful views of the lake from the cottages which is exactly what you'd want in a Lake Superior vacation! Their rates start at $199 per night.
---
8. Bluefin Bay
Bluefin Bay in Tofte is another name that I think many people would recognize. They've got their resort location but also, a few feet down the road is their Surfside location where you can rent a townhome on Lake Superior. They also have another location called Temperance. Between the three it looks like their cheapest option for 4 people starts at $345 per night.
---
9. Lutsen Resort
If you go way further north you hit Lutsen and Lutsen Resort. On their home page, it says rates are starting at $149 per night but I'm sure that's winter pricing and for rooms that only sleep 2 people. When I looked at June the cheapest option for 4 people was $249 per night.
---
10. East Bay Suites
Finally, all the way up in Grand Marais (which is beautiful but definitely a hike) is East Bay Suites. Their Studio Deluxe Room which, you guessed it, sleeps 4 people, starts at $193.67 per night. Or if you want a little more space, their 2 Bedroom starts at $247.67 per night.
---
You can't go wrong at any of these, Lake Superior is a beautiful location no matter where you are!
Minnesota's Most Expensive Summer Rental is Absurdly Priced at $13,000 Per Night
This is Minnesota's most expensive summer rental. It's located in Vergas, MN which is about an hour east of Fargo, ND. The cost per night is insane: $13,835 per night!