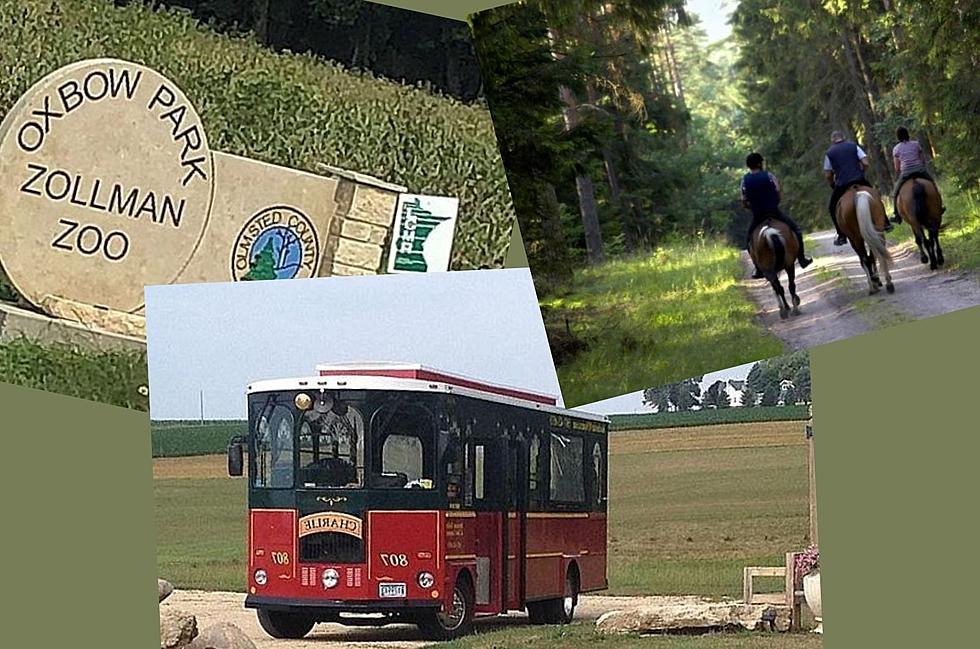 20 Things to Do Within 30 Miles of Rochester, MN
Google Maps, Agnieszka Pastuszak-Maksim
Whether you live in the area or you're just visiting Rochester, Minnesota at one point or another you'll most likely be on the hunt for something fun to do. There are all sorts of attractions in Rochester and in the surrounding area. It all depends on what you like to do, the time of year, and how much time you have available.
My husband and I really like going to local breweries and trying new restaurants. However, that's not what everyone wants to do with their free time so I tried to get a wide variety of things to do on the list! Hopefully you'll be able to use this to find something new to do in the area.
---
20 Things to Do and Attractions Within 30 Miles of Rochester, MN
The co-founder of the Mayo Clinic, Dr. Charlie Mayo, built this incredible home. Today you can take tours to get a peek into his and his family's life and learn more about the history of the Mayo Clinic. My husband and I want to go on a tour sometime!
---
Have a Drink at One of Our Many Breweries and Wineries
Breweries are our go-to but wineries are also super fun to check out, and we've got plenty of both in the area. You've got Little Thistle, Thesis Beer Project, SXSE, Four Daughters, and Salem Glen. Just do a quick Google search and you'll find something you'll enjoy. Or check out this Southern Minnesota Beer Trail Roadtrip
---
Spend the Day with Animals at Zollman Zoo
Hop over to Byron and spend the day with the animals at Zollman Zoo. Admission is free but a donation is encouraged. Connected to Zollman Zoo is Oxbow Park. They have a nature center and if there's snow you can go snowshoeing or cross-country skiing. So there are lots of options just in that one area.
---
Find Your New Favorite Restaurant
I love to check out new restaurants and try all kinds of food. If you're in town for a little while or you live in the area, try a new restaurant or two. You might find a new favorite! here are a couple of good lists to get you started:
---
Visit the Rochester Art Center
If you're the artsy type, spend some time admiring the pieces at the Rochester Art Center. There are new exhibitions popping up all the time so each time you visit it's very possible there will be all new works of art.
---
Catch a Show at the Mayo Civic Center
There are so many options when it comes to shows at the Mayo Civic Center. You've got music concerts, stand-up comedy, family-friendly shows, and theater performances. You'll have to see what's coming up!
---
Check Out Eagle Bluff Environmental Learning Center
If you enjoy learning about nature, visit Eagle Bluff Environmental Learning Center. There are ways you can be involved, you can take a class, or join them for an event.
---
Learn a little bit about the history of Olmsted County. If you're a history buff, this is definitely up your alley! Heads up, they're closed on Sundays and Mondays.
---
Take a Tour with the Rochester Trolley and Tour Company
There are all different kinds of tours you can take with the Rochester Trolley and Tour Company. There are winery tours, and historical tours, during the Halloween season there's a haunted tour, and during the holidays there's a light display tour.
---
Catch a Movie
There are plenty of theaters to choose from in Rochester and the surrounding area. I can't speak for all of the theaters in the area, but I do know that the Marcus Theater in south Rochester has those super comfy Dreamloungers.
---
Go Horseback Riding with Lazy D Campground
My husband and I went horseback riding with Lazy D Campground for my birthday last year so I had to give them a shout-out. They were great and you get to ride near Whitewater State Park which is really pretty.
---
Climb the Elba Fire Tower
If you're up for a little work, head over to Elba and climb up the Elba Fire Tower. I've never done it but I hear you get some pretty cool views from the top. Directions
---
If There's Snow, Go Tubing at Steeplechase Tubing
If you're here in the winter, Steeplechase Tubing in Mazeppa is a popular spot. Grab your warm clothes and get ready to have some fun!
---
Grab Your Wallet and Go Shopping
Depending on what kind of shopping you want to do, you can go to the Apache Mall or The Galleria (or both). I love hitting up the consignment shops and there are quite a few of those in town.
---
We've got lots of parks and trails in the area that are beautiful! You've got the Douglas Trail, Quarry Hill, Whitewater State Park, Carley State Park, and Chester Woods Park to name a few. Here is a list of parks and trails in Rochester, MN
---
Browse Ed's Museum in Wykoff
Ed's Museum is a bizarre place, so if that's what you're into, head to Wykoff to check it out. Basically, it's a collection of things that this guy named Ed collected over the years because he never threw anything out. We're talking oatmeal tins, junk mail, old signs, and plenty of other odd items. Some items date back to the 40s.
---
Spend a Day Exploring a Small Town in the Area
There are plenty of great small towns surrounding Rochester. If you have a day to do some exploring, pick one and see what you find! There's Spring Valley, Fountain, Chatfield, Byron, Kasson, Zumbrota, etc. all within 30 miles.
---
Try Your Hand at Bowling
Bowling is always a good go-to activity for the entire family. There are a few different spots in the area like Bowlocity in Rochester and Two Brother's in Stewartville.
---
Pack Your Bags and Go Camping
If you've got a free weekend and you like getting outdoors, go to one of the parks I talked about early and go camping. My husband and I camped at Whitewater State Park last summer and I'd definitely recommend it.
Check out 6 of the best campgrounds in Southeast Minnesota
---
Eat too Many "Spamples" at the Spam Museum
This one is just a little further than 30 miles from the center of Rochester but I wanted to include it because come on, it's the Spam Museum! It's over in Austin and yes, you get free "spamples" while you're there.
More to discover in the Rochester, MN Area:
---
Stay the Night at a Pizza Farm Just 60 Miles from Rochester
There's an adorable, 16-acre farm in Cochrane, WI, called Suncrest Gardens. It's a pizza farm complete with an Airbnb that you can spend the night in.