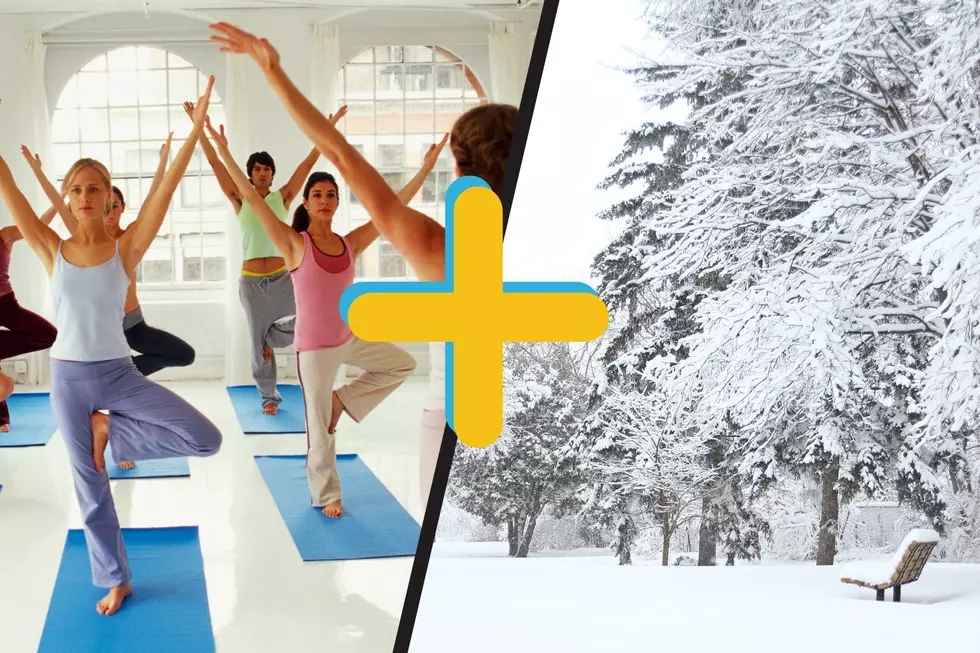 Love Winter? You Can Now Take a Yoga Class in the Snow in Minnesota
Thinkstock/Canva
People in the midwest are so funny.  We have a pile, and I mean MULTIPLE INCHES of snow on the ground right now and a group in Minnesota is throwing down their yoga mats and sporting a downward dog.  Yes, outside...in the snow.  If you missed out on this winter experience, don't worry, you've got another shot on Saturday.
Enjoy a Snowga (Yoga + Snow) Class in Minnesota on Saturday
Is there a benefit to doing yoga while you are laying in the snow?  I have no idea, but I do know that I would freeze in my yoga pants while I was trying to do a Warrior II pose with my feet on the snowy ground.  But, based on the photos that I saw on the Yoga 4 You page, it looks like quite a few people were enjoying a Snowga class recently at the Minnesota Landscape Arboretum.
If your dream has been to try yoga in all of the seasons, you can cross "winter" off on Saturday because another class is being led by Yoga 4 You this Saturday at 9 am at Charlie's on Prior at 3950 Green Heights Trl SW in Prior Lake, Minnesota.
Here's a brief description that Yoga 4 You shared on their Facebook event:
Winter is here – but here in MN that doesn't mean we curl up indoors and hibernate for the season! Led by Yoga 4 You and hosted on the ice at Charlie's on Prior, join us for one of winter's hottest new activities, snowga. Snowga is a fun way to combine being outside while practicing yoga. Focusing on breath control, meditation and asanas, and made for all levels – come breathe in that crisp winter air, soak up some Vitamin D and stretch out those muscles. In addition to a yoga mat, be sure to bring a towel to prevent slippage on the ice.
Dress accordingly. Class will be cancelled if temp is 10 or below.
Send a text to your girlfriends with this story attached and let them know you are signing up!  Grab tickets and learn more at the Snowga! - Snow + Yoga Facebook event.
Other Fun "Winter" Events Happening in Southeast Minnesota
Let Us Know About Your Events Happening in Southeast Minnesota!
Do you have an event coming up?  Townsquare Media cares about our community and serving our local community is important to our team.  If you are part of a local organization or nonprofit that has an event coming up that benefits the community, please reach out to our team at jessica.williams@townsquaremedia.com or contact us through our contact form here.
Why Someone Should Move to Minnesota (Wrong Answers Only)
I know a lot of people love the state of Minnesota, but the other day I had a little fun with our state. I asked on Facebook "Why should someone move to Minnesota? WRONG ANSWERS ONLY" and a whole bunch of answers started rolling in...and they are awesome.