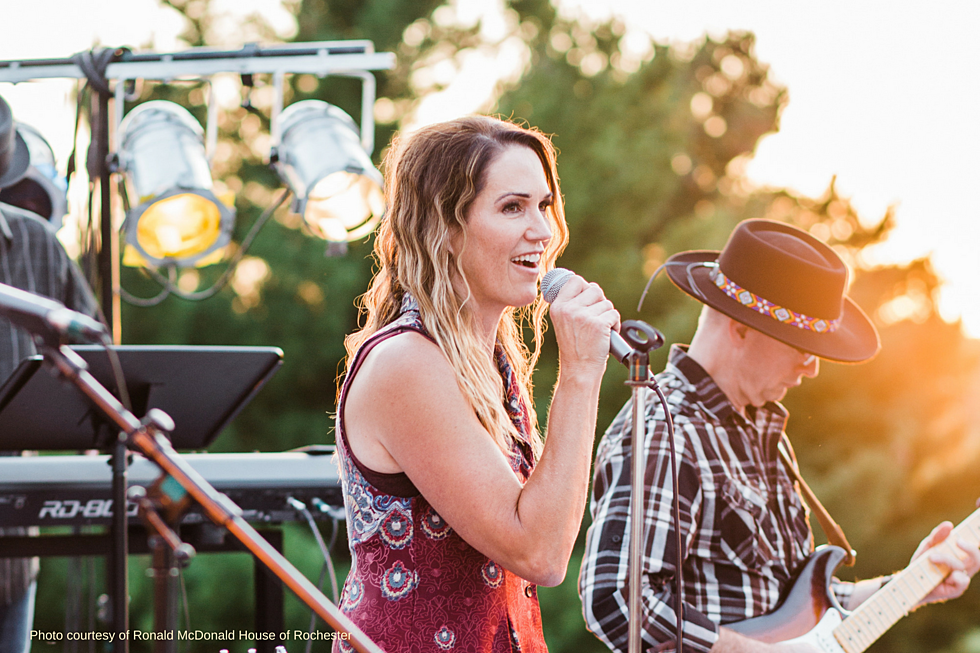 Annie Mack and Six Mile Grove Are Performing Live In Rochester At "Party At The Pavilion"
Photo courtesy of the Ronald McDonald House of Rochester, MN
I was just browsing through my Facebook memories and there it was, a memory from three years ago of a praying mantis on the window of Blank Children's Hospital in Des Moines.  My head was in a fog that day as I was walking through the hospital, but in the midst of all of the hospital feels and medical words, that insect caught my attention.
The day before, I rushed down to Blank Children's Hospital in Des Moines, Iowa, and sat by my brothers' side as he heard the words, "You have leukemia".  I was numb at that moment and it was a little surreal because, in 1995, I was in the same hospital as my sister fought the same fight.
1995 was a year of a lot of change.  Truthfully, it was one of the hardest things our family has gone through together and there were many nights and weeks when our family was hours apart from each other. 
My mom has shared many times that when she had to rush to the hospital with my sister, she often left home without more than a few dollars.  There were many days when driving back and forth from towns just wouldn't work, because of weather, the distance alone, or my sister was just too sick to be that far away from the hospital.
The Ronald McDonald House was a home away from home for my mom and sister.  It was smaller than the one we have in Rochester but the only thing that mattered was if there was a bed available.  To be honest, our family couldn't afford hotels and sometimes the hospital stays were over several weeks.
Over the years, I have met many individuals with kids that are here in Rochester because of their treatments at Mayo Clinic.  Madee, is one of those kids.  A few years ago, she came to Rochester with her family to find answers on why she wasn't feeling good and today, she is still a teenager but now a CEO of a company.  Read Madee's story here.
" From the moment we walked into the House, we were welcomed with open arms and open hearts. The House made everything OK. The House is our home. It's where I learned that everything was going to be OK. When you have a sick child and you feel helpless, the House will be there for you. It brings tears to my eyes just thinking about it." - Sunee, Madee's Mom
Rochester is lucky to have such amazing Doctors and nurses with the Mayo Clinic but we are also lucky that we have a place for families to stay.  Families just like mine and families just like Madee's.
I am so thrilled to be part of the "Party at the Pavilion" event on September 19th at Willow Creek Golf Course!  This night is all about benefiting the children and families at the Ronald McDonald House in Rochester.  I hope to see you there!
Thursday, September 19th
Willow Creek Golf Course, 17800 48th St SW, Rochester
Doors open at 5:30 pm
6:00 pm - Live performance by Annie Mack
7:30 pm - Live performance by Six Mile Grove
Enjoy a great evening of music, enjoying food and beer tastings, and help support the children and families at the Ronald McDonald House in Rochester
Cost is $25 and includes food and craft beer tastings from Kinney Creek Brewery LTS Brewing Company and Little Thistle Brewing.